POC Annual Farm to Table Dinner 2020
Join us for POC's Annual Farm to Table Dinner from the comforts of your own home.
Your meal includes:
An organic, locally sourced, gourmet meal by Chef Dave Esau with a vegetarian option

The Moland-Kovash World Famous Signature Cocktail

Organic Honey from Soulful Prairies

A handmade gift by ROLE

Ticket to the Peace Pole creating event on 09/20 at Soulful Prairies, celebrating International Peace Day
Tickets are $175 and help fund ROLE, a POC women's leadership program. You can pick up your meal package on September 19th at 5PM at Chef Dave's Specialty Foods in Mount Prospect. 
Purchase tickets online or contact Lisa Hanson-Braun at lisa.hansonbraun1102@gmail.com or 847-922-3124. Sponsorships are also available.
Thank you to our Sponsors:
Culinary Sponsors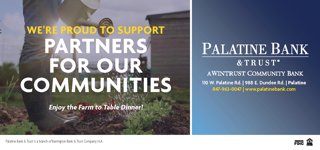 Harvest Sponsors
Gourmet Sponsors
Sign up for our newsletter
[ninja_form id=2]
Partners for Our Communities (POC) is a 501(c)(3) not-for-profit organization.
As such, donations are tax-deductible.
POC is committed to providing equal opportunities to all employees, applicants for employment, and individuals and families to which services are provided, without regard to race, color, ancestry, national origin, gender, sexual orientation, gender identity, marital status, religion, age, disability, results of genetic testing, or service in the military.